EVENT: In February, the Biotexcom team goes to the USA to meet with couples interested in treatment at Biotexcom. Contact us to learn more.
In 2018 our surrogate mothers gave birth to 688 children, 547 couples have become parents.
Center for Human Reproduction BioTexCom is a team of professionals who use the latest practices and methods of fertility treatment. Signing the contract, our patients receive a complete service package. In particular, BioTexCom drivers meet couples at the airport and provide them with a transfer from/to the clinic, hotel, embassy, etc. Our patients are provided with accommodation which are regularly visited by pediatrician who specializes in the newborn care. During the whole program manager and translator accompany couples and arrange all necessary for them, coordinate patients, prepare documents and help couples to go througout the process without difficulties. We are sure that there is no absolute infertility!
What do we offer?
1. Child-focused approach
2. Surrogacy-friendly, flexible and transparent legislation
3. Extremely high requirements for donors and surrogate mothers
4. 24/7 surrogate mothers support
5. Regular home visits to surrogate mothers
6. Individual approach, superior service and discretion
7. Rich donor's database
8. Healthy and caring/loving surrogate mothers
9. Caring team of experts
10. Top equipment, advanced technology
11. Innovative methods of ART
12. Our goal is personalized and guaranteed 100% result
13. Our business is guided by the feedback from our clients
14. More than 5000 babies have been born thought our assistance
15. Couples from more than30 countries of the world become happy parents
16. Advanced services in surrogacy and egg donation
17. Unlimited attempts programs
18. Money refund in case of negative for egg donation programs
19. Total legal support
20. Perfect balance of price and quality
21. Personal attention and affordable financing
22. We are open to everyone
23. No matter how many clients we have, every patient gets personalized care / our clinic is big but we have individual approach to every client
Contact BiotexCom – Center for Human Reproduction, get a free quote
Reviews
I was joining this program because I have removed tubes and hormonal imbalance. From the second try I got pregnant, and now I'm on my 25 week! Huge thanks to Anastasia, Yaryna, and Svitlana, they made my journey and treatment peaceful and comfy. Accommodation, transportation, meals, medications and so on were also included. Highly recommend BTC to all desperate couples, these guys are doing a miracle with our lives!

We are a couple from Portugal. We've heard different things about Biotexcom, but decided to try it out. We are delighted to have found Ksenia, our surrogate mother. She is a pretty and intelligent 25y.o. girl, who has a 4 years old child and a husband. Ksenia had an abortion when she was 17 and so she felt guilty and decided to become a surrogate to help infertile couples. I was shocked about how kind she is! We hit it off from the very beginning. I am sure that our baby will be healthy. Biotexcom provided us with a hotel room, food and transport. Now we are planning our last trip to Ukraine, because our child is going to be born in 2 months. I can mention some minuses as well. For example, we had to wait for an email answer for 24-36 hours. It is written in a contract, but it is too long for instance for people who are foreigners in the new country. Anyway 100% of our problems were solved in 24 hours. The other minus is Ukrainian weather. It is really cold in autumn and winter, maybe because we are not used to such temperatures. In general, Biotexcom is a trustworthy company with modern medical equipment. It gives you a great possibility to become parents.

We had 3 embryo transfers; we've almost lost our hope, but the miracle has finally happened! My pregnancy was monitored till 12th week, thanks God everything was fine. Our coordinators were very friendly (the most important thing for me, because it was them who were arranging our life in Ukraine). They've found us a pretty appartment in the centre of Kiev and provided us with fresh food during all 3 months we stayed there. I am satisfied with my choice.

Hi, I'm 36 and I had 4 IVF rounds with my eggs. Unfortunately, all of them failed and I was advised to go for donor eggs. My dh and I chose biotex because of the high success rate and reasonable price for the procedure. I had one attempt of de IVF and it was successful. My daughter is 1,4. Everything was ok. We're pretty satisfied with the services and the clinic in general. Our program coordinator was very attentive and supportive. We liked their Dr a lot. There were some minor falls. We were waiting in lines for hours during our first visit to the clinic. It was very exhausting. And stuff was hard to reach a couple of times. They definitely need a bigger building, more seats and a couple more employees. But the IVF itself, the transfer and communication with the doctor were on top. So our impression is, overall, rather positive.

frankly, mitochondrial replacement failed for me.... and it took 2 attempts for me to get pregnant with the help of an egg donation. BUT it's worth it. nonetheless, i need to admit, it should cost less considering the fact that ukraine is still not an european country... if you know what i mean. i also didn't like the first apartment we got but we managed to get another. the staff was extremely friendly, though, and i'm so much grateful to btc clinic for their kindness and patience because i was a hell of a client. 🙂

We really liked BioTexCom clinic. We went there for the IVF program. Honestly speaking, at first we worried a lot, everything was going not so smoothly. However, our manager supported us. All the time she held on us like a limpet and help us to go through all procedures. We have passed all the necessary tests in the clinic. And from the second attempt I became pregnant. That's OK. I am currently on 6 months, and everything is fine))))))

I am going for surrogacy in BioTexCom. I am attracted with their price (it is cheap enough) and guaranteed result. And the "all inclusive" package is very comfortable for me, cause I don't have to think about accommodation. Now I am at the communication stage and they answer questions very quockly. In a week we are going in Ukraine to sign the agreement.
Staff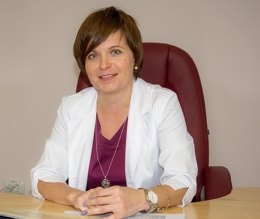 Elena Mozgovaya
Fertility Specialist, Obstetrician/gynecologist
---
Obstetrician-gynecologist of first qualification grade, Ph.D. in medical sciences, consultant in reproductive medicine, endocrine gynecology, ultrasound diagnostics, prenatal care after application of assisted reproductive technologies. Experience in infertility treatment from 2001. Member of ESHRE, UARM.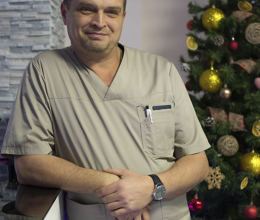 Pechenoha Igor
Interim Head of Medical Center
---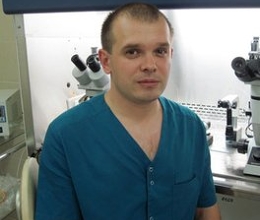 Kovpak Vitaliy Vasilyevich
Embryologist
---
raduated from the National University of Biological Resources and Environmental Management of Ukraine. The Ph.D. of science (biology). Co-author of 18 scientific articles and 6 patents of Ukraine. Scientific work trends – stem cell biology, embryology. Manages all modern methods of clinical embryology – IVF, ICSI, IMSI, embryo cryopreservation etc. Took a course at Russian Association of Human Reproduction (RAHR). Undertook internship at Assisted Reproduction Center, Valencia. Member of European Society of Human Reproduction and Embryology (ESHRE).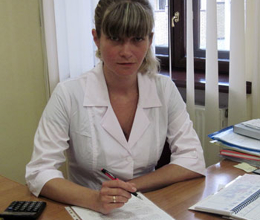 Olga Navrotski
Psychologist
---
Received two degrees at Bar-Ilan University of Israel with a specialization in "Psychology." Systematically improves her qualification at Moscow Institute of Perinatal Psychology and Psychology of Reproductive Sphere. For 4 years she has worked with patients of "BioTexCom" clinic where she provides psychological follow-up, assistance and support during treatment. Has long-termed experience (over 10 years) in individual psychological counseling on family and conjugal relationships, intrapersonal and intrapersonal conflicts, possesses methods of individual and group work. In her work adheres to humanistic and client-oriented trend of psychology, lays stress on follow-up and support for the patients, respect for their values and aims, accounts for modern trends in psychology, medicine and reproductive medicine. Participates in international and domestic scientific conferences on psychology and human reproduction, demonstrates scientific approach and research interest in her activity. Delivered the report on post-natal syndrome for genetic parents and their adaptation in their new capacity. Has perfect command of modern Hebrew.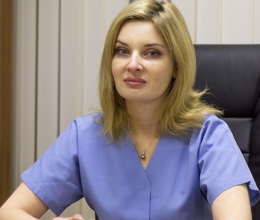 Kotlik Yulia
Fertility Specialist, Obstetrician/gynecologist
---
One of the leading specialist practitioner of Ukraine in reproductive medicine, obstetrics and gynecology field, member of UARM – Ukrainian Association of Reproductive Medicine and ESHRE – European Association of Fertility Specialists. Scientific activity of Yulia Aleksandrovna comprises more than 20 printed works in specialized editions, 2 study guides for students, and also invention patent for "treatment of immunological infertility".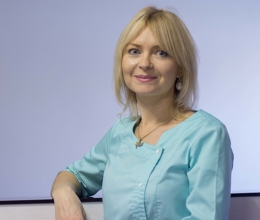 Trisko Kristina
Fertility Specialist, Obstetrician/gynecologist
---
Provides treatment of: Gynecological and endocrinological diseases – abnormality of menstruation cycle, climatic syndrome, venereal infections, PCOS, infertility Acne, alopecia and other dermatological problems caused by abnormality of endocrine profile Premature sexual development Absence or late sexual development Appearance of male sexual characters Juvenile bleeding Dysfunctional uterus bleeding Premenstrual syndrome Hyperandrogenism Endometriosis Chronic endometritis , salpingo-oophoritis Postovaryectomy syndrome Doctor Obstetrist-gynecologist also provides: Prenatal care of women with endocrine abnormalities; Consultations regarding breastfeeding; Remedies selection for individual contraception.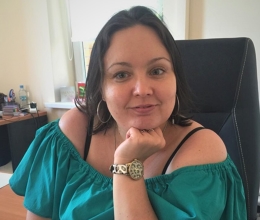 Anastasia Aleksandrova
Head of English Department
---