The IVF Clinic of Dr. Ghassan Azar is the top holistic obstetrical & gynecological clinic in Beirut, Lebanon. Our leading fertility center in Beirut enlists the guidance of a pioneer gynecologist with multiple achievements that range from discoveries and breakthroughs in the field of gynecology to multiple publications that have received world-wide acclamation.
Our experienced and skilled IVF doctor, Dr. Azar, was the first doctor to discover the nuchal translucency marker of first trimester for downs syndrome published in the British Medical Journal — which is now the universal marker all over the world where pregnant patients are subjected to this test in the first trimester of pregnancy. He also pioneered vulvar and perineal reconstructive surgery and all type of plastic repair. He is one of the few doctors to perform intrauterine foetal surgery as a blood transfusion and surgery to lungs and kidneys of babies in utero.
Leading Fertility Clinic in Lebanon
In-Vitro Fertilization
IVF in Beirut is a major treatment for infertility that consists of monitoring a woman's ovulatory process, removing ova from the woman's ovaries and letting sperm fertilise them in a fluid medium in a laboratory. The fertilised egg is then transferred to the patient's uterus with the intention of establishing a successful pregnancy.
Ultrasonography
Ultrasonography is used to visualize the embryo or fetus in its mother's womb. It helps establish key information about the progress of the pregnancy and the health of both the mother and the baby. In addition to tracking the size and listening to the heartbeat of the embryo, it screens for abnormalities and and determines the risk of premature birth, if any. Ultrasonography can also be used to define the sex of the baby in later stages.
Maternal Fetal Medicine
Maternal Fetal Medicine deals with high-risk pregnancies resulting from pre-existing medical conditions or complications during pregnancy. In addition to regular pre-natal testing and monitoring, the obstetrician may perform a fetal intra-uterine surgery.
Prenatal Testing
Amniocentesis is the sampling of detached embryonic cells floating in the amniotic fluid. After a small amount of the fluid is extracted through a needle, tests are made to determine whether any chromosomal abnormalities or fetal infections are present. The test can also be used to determine the sex of the baby. Similar to amniocentesis, CVS can be used to check for chromosomal abnormalities by taking a tissue sample of the placental tissue, and can usually be performed as early as 10 weeks of gestation. Cordocentesis is the sampling of blood from the fetal umbilical cord.
Cosmetic Gynecology
Cosmetic Gynecology aims to reconstruct and improve internal and external tissues and organs of the reproductive system. Procedures include rejuvenation of the perineum and removal of dark stains, collagen injection to G spot, labiaplasty, and hymenoplasty.
Getting to Know Our Expert Fertility Doctor
As the top fertility specialist in Beirut, Dr. Ghassan Azar, works diligently to help women and couples achieve their dreams. He was born in 1959 in Beirut where he grew up. After completing his elementary studies at International College (IC), he received a MD degree from the American University of Beirut in 1985 and spent four years training as a General Practitioner in Obstetrics and Gynaecology at the American university of Beirut Medical Centre (AUBMC). He then pursued his higher education specializing in Maternal Foetal Medicine for three years at King's College Harris Birthright Centre in London, one of the world's leading clinical units and research centres for the assessment and treatment of unborn babies, where he also published several publications and wrote a chapter in the most prominent book about ultrasound in Obstetrics and Gynaecology
Dr. Azar came back to Beirut in 1991 and worked as an Assistant Professor at the American University Hospital (AUH) for seven years. During that time, he was engaged in clinical research and published 23 papers in international peer reviewed journals. He also served and headed several committees local and international. He is married to Gracy and they have three children: Joe, Laura and Jad.
Contact Dr. Ghassan Azar IVF Clinic, get a free quote
Staff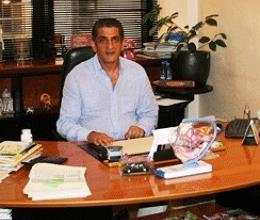 Dr. Ghassan Azar
IVF Doctor
---
Dr. Ghassan Azar was born in 1959 in Beirut where he grew up. After completing his elementary studies at International College (IC), he received a MD degree from the American University of Beirut in 1985 and spent four years training as a General Practitioner in Obstetrics and Gynaecology at the American university of Beirut Medical Centre (AUBMC). He then pursued his higher education specializing in Maternal Foetal Medicine for three years at King's College Harris Birthright Centre in London, one of the world's leading clinical units and research centres for the assessment and treatment of unborn babies, where he also published several publications and wrote a chapter in the most prominent book about ultrasound in Obstetrics and Gynaecology