Dear Dr. Kaberi Banerjee, We dont know how to THANK YOU FOR THE WONDERFUL AND PRECIOUS GIFT . Baby Aaradhya is doing very well and we are in contact with Dr.Holla, for her health update. Dr Kaberi, we want you to help us again for another gift, since baby Aaradhya would like to have a sibling to play with. PLEASE LET US KNOW YOUR PLANS so as to make the necessary arrangements. With Lots of Loves. — Meher and Anil Panjabi
Denoted as the top IVF clinic in Delhi, Dr. Banerjee's Advance Fertility and Gynecology Centre, is an outstanding Assisted Reproduction Centre located in the heart of South Delhi, easily accessible via all forms of transportation. Located next to a major metro station, even those without easy access to four wheelers can easily find their way as the clinic is on the main road. A Delhi location convenient for IVF patients as they usually need to visit the clinic more frequently than other categories of patients. Advance Fertility Centre has state-of-the-art embryology laboratory with all the latest equipment required for the best results, even in the difficult cases or those with previous failures. We perform In Vitro Fertilization (IVF), Surrogacy, Intracytoplasmic Sperm Injection (ICSI), Blastocyst Culture, Assisted Hatching, and Pre-implantation Screening and Diagnosis in our world-class laboratory. The lab is maintained at the highest standards of cleanliness, temperature, and air purity — so as to achieve the best results for our patients. Surrogacy is legal for India Citizens.
Extensive andrology work is done at our centre as we believe in treating the couple as a whole instead of just managing the women and referring the males in case they have fertility. We perform Intra Uterine Inseminations whenever possible and do not direct all our patients towards IVF/ICSI unless their tests leave them with no other option. One of the specialties of this centre is to give hope to every couple who wants a child by adopting technology which is least invasive. Within the same lab, in a separate room, lies the cropreservation facility. This is one of the most indispensable areas of the clinic. It is where vitrification of sperms, oocytes as well as embryos is done for future use, if necessary. In fact, several patients both Indian and international keep their embryos frozen even while they have conceived a child from IVF. Then they opt for frozen embryo transfer in order to conceive another child with good results.
We have a very good, quiet, peaceful and well-attended post-operative area for the patients undergoing IVF procedures or general laparoscopic/hysteroscopic procedures to enhance the fertility. It is always monitored by a minimum of two staff nurses and one reproductive medicine consultant at all times. We ensure that we remain the best IVF clinic in India. Our surgical operating theater is separate from the IVF operating room and lab so as to maintain the highest standards of cleanliness. Embryos are extremely sensitive to any changes in local incubator environment, any synthetic additive in their lab environment (such as perfumes etc.) are embryotoxic. Hence, the general gynecology OT are kept separate. In the general OT, we perform laparoscopy and hysteroscopy and other procedures with our state-of-the-art equipment and experience in handling over 5,000 IVF cases.
Apart from the OTs, we have consultation chambers and a separate injection room where the cold chain is maintained between 2-8 degree Celsius as recommended. Here, in the privacy of the chambers, the patients talk freely, share their issues with the consultants and receive experienced advice. They receive the daily injections in the injection room by specially trained nursing staff. Perhaps one of the most important facts about the center is the availability of the senior most consultant and director throughout your cycle instead of just meeting you on the first day and the embryo transfer day. Here, the consultants do your ultrasounds themselves, discuss your treatment with you themselves, answer each and every query themselves. Our team is led by, Director Dr. Banerjee, who is available throughout the month and supervises all the treatments and procedures.
About Dr. Kaberi Banerjee
A seasoned Obstetrician & Gynecologist with more than a decade of experience in IVF infertility management, Dr. Kaberi Banerjee is renowned infertility and IVF specialist in Delhi & NCR. Dr. Banerjee is the Medical Director of Advance Fertility & Gynecological Center, New Delhi and has handled more than 5000 pregnancy cases so far. Her expertise lies in successfully handling complicated cases of repeated IVF failures, donor, and surrogacy.
A Qualified Professional
International Exposure With Extensive Experience
Dr. Banerjee is infertility and IVF Specialist, trained from the prestigious Guys and St. Thomas Hospital, London, where she went as a Commonwealth scholar and has spent three years in London (UK) doing rigorous training in the domain of infertility and IVF. She completed her MBBS and MD in Obstetrics & Gynecology from the prestigious All India Institute of Medical Sciences (AIIMS), New Delhi. She has done her membership from the Royal College of Obstetrics and Gynecology (MRCOG), London and is also a member of the National Academy of Medical Sciences (MNAMS). She is actively involved in writing articles & columns in the international journals, scientific publications, and presentations for the IVF website and has been presenting at several International Conferences as an invited faculty.
She has worked as a Senior IVF Specialist in major corporate hospitals in Delhi and is the organizing chairperson of CUPART (Current Practices and Recent Advances in ART), an International organization aimed to facilitate the right treatment and research in fertility & IVF. The foundation was founded in the year 2011 by Dr. Kaberi Banerjee.
A Multi-faceted Personality
A Writer, A Speaker & An Infertility Expert
An active participant in this field, an ardent writer, and a thorough professional, Dr. Kaberi Banerjee has received many renowned national awards, including IMA award in IVF in 2007 and Bharat Jyoti Award in 2008, for outstanding contribution in medicine and the prestigious India Excellence Award in Medicine in 2015.
Why Dr Kaberi?
Specially trained in IVF and has received the prestigious Commonwealth Award and has spent 3 years in the UK practicing IVF.
Trained in Embryo transfer, the most crucial step from Dr. Mohammed Taranissi, the Father of Embryo Transfer with the highest pregnancy rate in Europe.
Consistently high success rates.
Almost 5000 pregnancy cases through her treatment and the number is increasing. She is associated with two reputable corporate hospitals in New Delhi.
State-of-the-art infrastructure and facilities at both the centers which are at par excellence.
All the patients are treated with dignity, empathy, and privacy.
Transparent in her approach and treatment of the patients.
Why Us?
Some of the factors that made Advance Fertility and Gynecology Centre a trusted name in the specialty of IVF and infertility are-
Our center specializes in treating couples who have had failed IVF cycles
Educating patients so that they can take informed decision
Entire treatment under one roof
Policy of one patient – one team, very crucial to IVF success
State-of-the-art IVF laboratory strictly as per the international guidelines
Spermatorium with cutting-edge andrology and culture room facilities
One of the most advanced IVF labs in Northern India
Clinician availability through the month (rather than only during IVF cycle)
Reviews
By your blessings, our small daughter is now an active child of 3+ and plans to join school next year from the present pre schooling. She is smart, quick learner, less eater, very caring and dance and music lover. Thank you so very much Dr Banerjee.

Dr Kaberi Banerjee is rated as one of the best IVF doctors in Delhi and a leading infertility specialist in India.

It was my luck and Dr. Banerjee's expertise that I got pregnant in the first cycle of ICSI ! Dr Banerjee's encouragement, calm persona and easy access made the IVF cycle feel very easy and smooth for us. We wish her and the clinic, the very best.

I was advised for IVF at another IVF clinic in Delhi. I was trying to have baby for 5 years. Dr Banerjee went through my notes and said that I do not need an IVF currently. We tried a cycle of Intrauterine insemination and I got pregnant in the first attempt ! I would recommend Dr Banerjee to anyone who has been trying to have a baby for a long time and needs the right advice.
Staff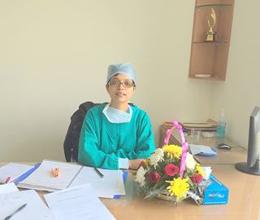 Dr. Kaberi Banerjee
IVF Expert
---
A seasoned Obstetrician & Gynecologist with more than a decade of experience in IVF infertility management, Dr. Kaberi Banerjee is renowned infertility and IVF specialist in Delhi & NCR. Dr. Banerjee is the Medical Director of Advance Fertility & Gynecological Center, New Delhi and has handled more than 5000 pregnancy cases so far. Her expertise lies in successfully handling complicated cases of repeated IVF failures, donor, and surrogacy.