Reach your dreams of parenthood with EuroCARE!
Fertility treatment is an intensive process that requires sensitivity and an understanding of the physical and emotional aspects of every patient's journey. Led by experienced fertility specialists, EuroCARE IVF is an all-encompassing IVF center located in the Turkish Republic of Northern Cyprus.
From the moment we opened our doors, our mission is to offer you high success rates and affordable treatments. We have launched several treatment packages as a bundle of medical expertise, 24/7 IVF cycle support, accommodation, relaxing environment and state-of-the-art laboratories.
In addition to EuroCARE's pioneering in vitro fertilization (IVF) program, we provide egg and sperm donation, embryo donation, tandem IVF cycles, and PGS for family balancing preferences. In addition, we offer cycle upgrades to maximize your success, including assisted hatching, embryo glue and cryopreservation.
Your family is the center of our practice and we do our best to help you build the family you want. Our entire team strives to make the process of fertility investigation and treatment a positive and successful experience. We are proud of our family-like atmosphere and a strong commitment to medical excellence and patient education.
WHY SHOULD YOU CHOOSE EuroCARE AS YOUR IVF DESTINATION?
EuroCARE IVF in Nicosia provides:
No Waiting List. Schedule treatment when it's best suitable for you.

World-Class Facility. Modern hospital boasting state-of-the-art equipment.

Competitive Prices. Affordable prices without compromising quality.

Exquisite Locale. In the scenic town of Nicosia. Relax. Unwind.

Expert Team. Dedicated to providing the best care to achieve a positive result.

Gender Selection. Balance your family as you wish.

Hotel Accommodation Options. Comfort starts with the best accommodations.

Concierge Services. Private transport to and from airport, appointments, and hotel.
WE CARE ABOUT YOUR HEALTH — COVID-19 MEASURES
We take infection prevention very seriously in all of our exam and treatment rooms. Measures to minimize any risk to our patients and staff members include:
Wearing a mask by staff and visitors

Cleaning protocols and sanitizing measures

Social distancing practices

Limited number of people at the same time

Pre-appointment questionnaire and temperature checks

Personal protective equipment (PPE) for all staff members

Online video appointment options
EuroCARE IVF TREATMENT — STEP BY STEP
Starting IVF treatment can be exciting — yet we also understand it can be overwhelming. Typically, IVF treatment is pursued after other treatments have failed, following months of trying to get pregnant.
Step 1 – Getting Started
The first step is to discuss the program details with our Patient Coordinators — by either using our contact form, getting a free quote, or making a direct phone call. You will be advised in detail on the cost of treatment, tests required, and the details of your IVF process. Connecting with our team is an opportunity for you to ask questions, as it is very important to understand the treatment process entirely from beginning to end (and everything in between).
Step 2 – Required Testing
Before starting your IVF treatment in Nicosia, there are tests that need to be carried out in order for our team to assess your fertility levels and prescribe the correct dose of medication that you will need to take before traveling to Cyprus. Please contact us to get the full list of tests you should undergo.
Step 3 – Stimulation Medication
Option 1: Stimulation medication is in the form of subcutaneous injections and is used to stimulate the growth of multiple eggs and to prevent premature ovulation. Medication is prescribed and taken before your arrival at EuroCARE IVF. Your pre-tests will determine the correct dose. Additional medication will be prescribed by our IVF doctor once you have arrived in Cyprus.
Option 2: If you choose to use donor eggs for your treatment, a special stimulation protocol will be prescribed to your donor for the purpose of egg retrieval.
Step 4 – In Cyprus
Time in Cyprus: 8-day minimum including travel days
IVF with ICSI Treatment Process (though may be subject to change)
Below is an overview of the IVF process using your own eggs:
Day 1 – First day of menstruation

Day 2 – Stimulation injections begin

Day 9 – Fly to Cyprus**

Day 10/11 – Initial Scan and hCG trigger injection

Day 13 – Egg and sperm collection

Day 16 – 3-day embryo transfer OR

Day 18 – 5-day embryo transfer
Note** If you wish to come to Cyprus for the full treatment, you must arrive on day 2 or 3 of your menstrual cycle and stay for approximately 15-18 days.
For patients who undergo IVF with Egg donation, the treatment process doesn't include a stimulation phase. In that case, you should come to Cyprus only 1 or 2 days prior to your donor's egg retrieval.
Initial Scan
If you decide to use your own eggs, the initial scan will check the development of your follicles. Otherwise, this step will be performed by your donor. If the eggs are ready, the dedicated team at EuroCARE will administer an ovulation trigger injection. The injection stimulates the final maturation of eggs in the ovaries. The eggs will then be collected 34 to 36 hours after the injection is administered.
Egg & Sperm Collection
Patients who use their own eggs will be advised of their pickup time for the day of egg collection. Alternatively, eggs will be retrieved from your donor.
Once you (or your donor) arrive at the clinic, you/they will be taken to the operating room where a sedative will be administered for the entire procedure. Your (or donor) eggs will be collected under transvaginal ultrasound guidance. Generally, the egg retrieval takes 20-30 minutes. During the proceduren, our team will also be preparing the sperm sample from your partner (or sperm donor).
Fertilization
To ensure fertilization, our team uses the ICSI procedure. This technique involves the insemination of sperm into each egg by micro-injection. Our doctors will discuss with you the number of eggs that were collected and sperm quality. After 24 hours, you will receive an update regarding the fertilization process and the number of embryos.
Embryo Transfer
Our highly skilled embryologists, Kevser Çökelez and Bü?ra Ka??tl?, will identify the visually healthiest embryos on day 3 and in some cases will recommend extending embryo development to day 5 — also known as the blastocyst stage. Blastocyst transfer is common in IVF cycles, as it can increase the chances for success while decreasing the likelihood of multiples.
Embryos are transferred to the uterus through a soft embryo transfer catheter. This painless procedure is similar to a pap smear and does not require any anesthesia.
If you desire to use cryopreservation, the highest quality embryos that are not transferred can be frozen in liquid nitrogen, carefully labeled and stored in the embryo bank. The embryos can be used in subsequent cycles if pregnancy is not achieved on the first attempt or if you decide to have more children at a later date.
Step 5 – Pregnancy Success
Hormonal supplementation usually involves the administration of intramuscular injections of progesterone and/or a vaginal suppository (comprising estradiol valerate and micronized progesterone) until a blood pregnancy test is performed.
The most accurate test for pregnancy is the beta hCG blood test — 12 days after the embryo transfer (day 1 being the day after the transfer took place). HCG is human chorionic gonadotropin, also known as 'the pregnancy hormone'. The body begins to produce hCG when an embryo begins to implant in the uterus.
Progesterone injections are continued along with vaginal estradiol and progesterone suppositories until the 10-12th week of pregnancy. An ultrasound examination is performed approximately 2-3 weeks after the chemical diagnosis of pregnancy to visualize the pregnancy and hear the heartbeat.
START YOUR JOURNEY TO PARENTHOOD WITH EuroCARE IVF!
With over 9,200 performed since opening, you can rest assured that no matter your personal circumstances, our specialized team will provide a confident infertility diagnosis and an effective, personalized treatment strategy to give you the best shot at conception.
Call Us
North Cyprus: +90 533 885 4222
UK Patients: +44 203 389 7633
E-mail Us: [email protected]
Learn more about EuroCARE IVF...
Contact euroCARE IVF Centre, get a free quote
Reviews
Our experience with EuroCARE has been amazing throughout the whole process. Lyndsay and Madina were wonderful in guiding us through it all and they were always genuinely caring and warm and quick to answer all our questions. All the staff we dealt with were super lovely and ensured we had a smooth IVF experience. We had donor egg IVF treatment in May 2022 and were thrilled to get pregnant on our first try. Our baby boy was born early in 2023 and we cannot thank everyone at EuroCARE and Dr Yücel Inan enough. We feel truly blessed and are over the moon with our baby boy, he is just perfect.

We had a amazing experience with eurocare ivf clinic in North cyprus. From the start till the end( birth of our twin boys). To Lyndsay and Madina and the doctors much gratitude and keep up the good work AH

I travelled to Cyprus twice for egg collection then the transfer I'm now 12 weeks pregnant with a healthy baby girl. I couldn't be happier and will forever be grateful to the Eurocare team. Thank you xxx

Our experience was excellent, from communication,hospitality,questions,etc, Madina and Sherry was our contact persons and they were very helpful to explain everything for us. We can't thank you enough for the help ❤️

Miraculous, nothing short because all the doctors in the UK told me that no embryo would implant in my uterus because of scarring from an open myomectomy from a fibroid surgery. However, Dr Yucel Inan looked at my scans and said that he doesn't see any reason why embryos would not implant in my uterus. I started the painless procedure of getting IVF ready with them (EuroCARE). The process of embryo transfer was effortless, quick and painless. 4 weeks on, and I'm pregnant with triplets. Which I have since delivered and all are in good health.

The first contact with the clinic began when I would have liked to become a single mom. Even at this point I could always count on friendly emails from Lyndsay and trust her help. When I found my partner, the plans became more concrete and I am very happy with how everything turned out. Here, too, I could turn to Lyndsay with any questions. We traveled to Cyprus in January and were warmly welcomed and treated well. All of the team were friendly and everything was well organized and planned. In Cyprus, Madina looked after us in a friendly manner and the entire treatment process was explained to us down to the smallest detail.The doctor and the whole team were very friendly and the treatment was successful on the first try. I am now pregnant with a healthy baby girl and we couldn't be happier and more grateful. We are already looking forward to coming back sometime and planning a little sibling for our little one. Many thanks to the entire team and many greetings from Germany. Lots of love and only the best to you.<3 And to those who rate negatively here: I think it's a shame. There is never a guarantee for a pregnancy and you have all your (health) reasons why it doesn't work out. No doctor is a miracle healer and can conjure up babies. Of course it's sad when it doesn't work out, but the clinic can't do anything about that.The team is here to help you find your happiness. You are venting your anger/sadness in the wrong place. Someday it will definitely work for you, too.

I googled for few clinic options in Turkey and randomly contacted Viktorya Bitmish early 2022, she was prompt and immediately pencil down an initial consultation date. She referred me to the EuroCARE IVF centre based on the treatment I needed. Lindsay was my first point of contact then Madina. Absolutely grateful to come across this clinic. No regret, yes, there was a language barrier but the doctor DR. YÜCEL İNAN tried his best to explain us the treatment protocol via some charts and of course either Lindsay or Madina was with us every time. After more than 12 years of infertility and several failed ivf treatments in UK, I succeeded on my first cycle at EuroCARE. I am blessed with twins. The doctor and admin teams always gave us positive vibes throughout the treatment. I would heartily thank you all. Looking forward for my second treatment soon ❤️❤️

What can I say. We have been through so much as a family. 5 rounds of IVF before finally falling pregnant naturally. Now we are trying to add to our family as we worry about our daughter being alone. euroCARE IVF have been brilliant. Lyndsay has been a huge support over many long frustrating months of Covid 19. They really listen to the history, to your concerns and treat you as an individual. There is no pressure to go ahead at any stage. All travel was taken care of, we were picked up at the airport, hotels were organised and visits to clinic were in the clinic taxi. On arrival we were able to discuss our concerns about the sperm quality. It wasn't until the day before egg collection we decided to add donor sperm for a quarter of the eggs. It was no issue. We used a microchip for my husbands sperm. The outcome was incredible. In 5 rounds of IVF we have only ever achieved one transfer of a poor quality embryo and never had anything to freeze. Whats more - we had good results not only from the donor sperm but my husbands too. We have 8 frozen embryos. I don't yet know the outcome of the cycle, and for me it doesn't matter. You can only help biology so much. What has mattered to me, is being treated as an individual, the care and attention, the flexibility. It's a big step to go abroad but I whole heartedly recommend you do. You will also enjoy North Cyprus. A lovely place to be. Good luck in your journeys. Laura and family

After undergoing multiple IVF treatments in the UK and spending thousands of £'s. My husband and I decided to go to Cyprus for treatment. As soon as I made contact with Lyndsay (who is amazing) I knew I was set on EuroCare as our clinic of choice. Lyndsay was extremely supportive, organised everything for us, communicated through email and explained all procedures and travel arrangements etc with us. Once we arrived in Cyprus, the clinic is very relaxed and staff could not be more friendly. Lyndsay was always on hand with anything we needed. We finally are pregnant and were thrilled with the whole process in Cyprus. I felt so much more relaxed in the hands of Eurocare compared to London hospitals where I had been previous which were like conveyer belts! This was so different. I am now 6 months pregnant and all is going well. I am hoping for possibly a second child one day in the future and I shall be back on a plane to see Lyndsay and the team for sure.

الاخوة الاعزاء بصحة يوركير توصلنا معكم عن طريق النت عن طريق الانسه ساره وكانت تجربه احسن مما تخيلنا من حيت دقه التفاصيل فى المعلومات دقه العمل الرائع وتسهيل امورنا وتسهيل دخولنا الى قبرص بكل اريحيه وسلاسه وكانت الانسه ساره معنا خطوه بخطوه فالشكر لها ولحسن معاملتها فعلا كانت انسانه مريحه فى المعامله مما زاد شوقنا لخضوع هذه التجربه التى اتمنى من الله ان تتم بخير كما نشكر طاقم الصحه من الرسبشن الى الدكتور Dr Yucel Inan الرائع وكل من فى المصحه لكم كل الشكر والتقدير والى عزيزتى ساره التى لها الفضل لوجودنا هنا فلكم كل الشكر والتقدير من الزوجين

We are a married couple with 3 boys. We desperately wanted a girl as well... so I've tried to find a solution. I've found many North Cyprus IVF clinic which proposed gender selection method to couples like us. I've contacted many of them but finally, I've chosen Eurocare IVF. First of all, because our patient coordinator (Sherry) was a true gift: she let us know everything since our first email-change. She was always available and answered all our question so I made confiance for her. I've read a lot of review about the clinic which were positives. And finally, they had a special promotion regarding the price of the treatment - and let be honest, it's something which is really matter at these level of prices. So we've chosed them and we are really satisfied with our choice - they were professional, the clinic is beautiful, clean, modern. We've made preliminary tests in our home country (it was our charge), but only the bare minimum. Every tests we needed later, we can do at Eurocare (blood test, scans, even PCR test!) I started the medical treatment at home and I was monitored by a doctor in my home country. Than we went to North Cyprus on the 8th day of my cycle... and we've waited for 6 days for the egg and sperm collection. During this time, we were accompanied by Sherry and the medical team. We couldn't ask anything which they cannot find a solution. We were always picked up by taxi and carried to the clinic. The doctor and staff were professionals, the treatment was personalized. We've managed to collect 20 follicules, 14 of them started to grow after fertilization and 5 of them were good enough to freeze (we've chosen to freeze them for the moment). 3 of them are girls, 2 are boys. I am really grateful for all the staff to their efforts and I am waiting for the time when we can do the transit of the embryos as well.

Excellente coordinatrice très humaine équipe à notre service

The center is wonderful, the doctor is excellent, the staff is wonderful, the patient coordinator is very wonderful and cooperative, a beautiful experience with them

تجربة رائعة بكل ما تحمله المعنى من كلمة سافرت من بلد لبلد وما ندمت ابدا معاملة رائعة ومهنية عالية وشفافية ووضوح بشكر جميع الفريق الطبي ع جهودهم المكثفة ومهنيتهم العالية بحب اخص بالشكر المنسقة الرائعة سارة اللي كانت اكثر من اخت لما قدمته من تعاون ودعم وانا بعتبرها جزء كبير من نجاح تجربتي بسس دعمها المتواصل وان شالله رح ارجع اعيد التجربة قريبا

My experience was great , great team and services i never ever had amazing treatment like this I really appreciate all team efforts and i would send special thanks to the best coordinator ever who was in contact with me , support and quick response Ms Sara , she was really amazing and very helpful Thanks to all of you

The center is wonderful, the doctor is excellent, the staff is wonderful, the patient coordinator is very wonderful and cooperative, a beautiful experience with them

I was very scared at first but sherry helped me all the way long and made my journey so easy for me it was a very good experience from the start to end I actually enjoyed it all the way through

Brilliant service and staffing, nothing was an issue, our coordinator Lyndsay was great throught from start to finish and we still keep in contact now. Clean tidy friendly and empathetic to our situation. awe tried for 16 years and had 3 failed attempts in Glasgow. We did t take advantage of the pick up and drop off as we had hired a car for 10 days . With regards to procedure it was professional and sage and clean. very organised. I would highly recommend the clinic here in the Northern part of Nicosia. Thank you to all involved and thank you for Flynn.

I had been in touch with Lyndsay for a while and she was very understanding about our situation when we had to postponed the treatment and was never pushy. We got a discount which was nice and medications were ordered from Turkey. We had great advantage of staying in Oscar resort as we were picked up and dropped off. This took the pressure off us and we were able to have a lovely holiday in Cyprus too.. embryo transfer was explained and Lyndsay was always there for us no matter what time. The staff were lovely and everything was explained so well I didn't stress at all about anything through out the whole process. My pregnancy was lovely I enjoyed being pregnant..IVF was the best thing for us and now we are blessed with twins. You are able to do everything you would do if conceived naturally eg breastfeeding. Thank you so much and we will bring the twins to see you all.

Liebe Yasmin, vielen Dank für die tolle Betreuung vor, während und nach unserem Aufenthalt auf Nordzypern. Beim ersten Versuch mit Eizellspende hat es direkt mit Zwillingen geklappt und wir sind sehr glücklich darüber. Ihr bemüht euch und gebt alles um zufriedene und erfolgreiche Patienten zu haben, und das ist etwas, das ich seit über 5 Jahren unserer Kinderwunschbiographie nicht so kennengelernt habe. In Deutschland fühlte ich mich bei 4 Kliniken nicht zu 💯 Prozent erfolgsorientiert behandelt; in Tschechien vermittelte man mir, dass ich keine Eizellen bei Punktion in Prag hatte (war aber gelogen),; in der Türkei sagte man mir vor Ort, dass ich nicht komplett behandelt werden kann, da ich nicht verheiratet bin... Nach so vielen Niederlagen wart ihr das Team, das uns bestmöglichst beraten und behandelt hat-mit Erfolg. Vielen Dank für alles! Es fehlt nur noch das von uns gewünschte dritte Kind und deswegen sehen wir uns bald wieder🤗 Alles Liebe, Efa und Familie

In the past i tried this treatment and had a bad experience and failure however i found this place and communication with Sherry Selengul was very good and fast. She was caring and answered all my questions 24/7 and was honest. Im very happy and would recommend

Sherry and Lyndsey were both excellent, Sherry was my main point of contact and throughout the process she was always on hand.....even on Christmas day and whilst she was on her own holiday! I would most certainly recommend this clinic to others, and yesterday we found out that we are expecting 🙂

Thank you Euro Care team for making my dream come true ‼️🙏🏻 select of gender 17 weeks 🙏🏻🙏🏻

Very good: - easy, clear and swift communication - all steps of the procedure were explained by the MD

From day one the communication from Lyndsay at the clinic has been fantastic, she is so helpful and caring. The clinic has a friendly atmosphere, staff and everyone puts you at ease. We had two cycles at the clinic and each time they have tried something different to help us get our miracle. We feel they have given us a better chance than our UK clinic.

السلام عليكم رمضان كريم عليكم جميعا احب اعرفكم اني سناء زوجي وليد قد راجعنا مركزكم بتاريخ 2019/4/16وقد أجرينا عملية طفل انابيب كانت الإدارة في مركزكم جيده للغايه وكذلك الدكتور وبين قوسين ست هناء تحياتي لها ممتازه جدا وعلى تواصل معنا قبل وبعد العملية قبل العملية تؤكد على نوع الطعام وكذلك على العلاج كيف يؤخذ والحمد لله صار حمل بعد قيامنا بالفحوصات بعد أسبوعين من ترجيع الاجنة الحمد اللة الحمد لله مره أخرى وانا وزوجي بصراحة معجبين بالاهتمام الذي بدره من الكادر الاداري وعلى رأسهم الست هناء دائمآ تتصل بنا عند عودتنا الى بلدنا العراق حيث تطمئن علينا وتستفسر على الحاله الصحية وتذكرنا على أخذ العلاج ومراجعة الدكتور وتؤكد على قياس الضغط سلامي للجميع وعلى الدكتور سلام خاص مني ومن زوجي وليد

We are delighted to share our experience we've had with Eurocare IVF. I have been in contact with Sherry Selengul for the past 2 years, who was our first point of contact at Eurocare. Sherry has been constantly supportive and engaging with regards to the guidance she gave my wife prior to our travel to the clinic in Cyprus. We were initially apprehensive as it was our first experience and I was very worried about the whole thing. Sherry arranged everything for our trip from UK to Cyprus from start to finish which included airport pick up and drop off service, hotel and resort accommodation, taxi services to the clinic, etc. which was very convenient. But more satisfying and thrilling was the IVF process at the Eurocare clinic lead by Dr Armagan and the staff which resulted in my wife becoming pregnant in 2 weeks after the embryo transfer. I can't thank Dr Armagan and Sherry enough for their exemplary service and expertise in this field that has resulted into new addition to our family giving us immense happiness. Therefore, I strongly recommend Eurocare IVF as they are the subject matter experts in this field. We are truly delighted to have chosen them for my wife's IVF treatment. 😊

The IVF treatment went very smoothly and to plan. All the members of staff are very friendly and helpful. I had my treatment done by Dr. Armagan Ulubas who I have to say was amazing, he explained everything to me and gave me the best treatment and gave me all the options available. Finally I would like to say a huge thank you to Sherry who I contacted throughout the treatment, every time a had a question she would get back to me. Sherry is lovely, helpful and very friendly. I can't wait to contact Sherry and let her know the good news.... I would recommend Euro Care IVF to anybody.

The level of personal care and professionalism received from EuroCare IVF Center (through Sherry, the International Patient Coordinator, Dr Ulubas and the entire medical team) is second to non! We were treated with dignity, presented with various options of care to choose from and told what the pros and cons of each option was so we could make our independent informed choice. Communication was smooth and response time to questions/ inquiries was very quick right from first introduction through to post care. The experience has really nice overall and we believe our success story will be enlisted among others' shortly!

Hallo Yasmin, ich hoffe es geht dir gut 😊 Wir wollten dir Bescheid geben das wir am 25.02.2019 einen kleinen gesunden Sohn bekommen haben. Wir danken dir für alles was du für uns getan hast🙏 die Dankbarkeit die wir eurem Team und insbesondere dir und dem Arzt entgegen bringen können wir niemals in Worte fassen🙏 uns bleibt nur zu sagen unendlichen Dank dafür das du zusammen mit dem kompletten Team von euch uns diesen wunderbaren Traum erfüllt hast und uns zu den glücklichsten Menschen auf diesem Planeten gemacht hast🙏 Ganz liebe Grüße an dich wir werden dir und euch wirklich auf ewig dankbar sein und wir werden nie vergessen das du uns eigentlich durch die aufregendste und mit auch durch die schwerste aber gleichzeitig auch durch die schönste Zeit begleitet hast. Vielleicht ist es zwar dein Job aber in unseren Augen warst du jemand der uns wirklich viel Zuversicht,vertrauen und auch Kraft gegeben hast. Wir wissen nicht ob wir das ganze auch gemacht hätten wenn du nicht da gewesen wärst! Du weißt glaube ich garnicht wie sehr du uns geholfen hast alleine damit das du da warst und wir wussten wenn was ist wirst du schon eine Lösung dafür finden. Wir könnten jetzt noch Ewig weiter schreiben wie dankbar wir dir sind, aber ich hoffe du verstehst es das du einen besonderen Platz in unseren Herzen eingenommen hast und wir dich nie vergessen werden. Wir wünschen dir in deinem Leben nur das beste mögen sich alle deine Träume und wünsche erfüllen und wir hoffen das du in deinem Leben nur von Glück, Freunde und Gesundheit begleitet wirst🙏 Egal was ich gerade mache ich merke wir können einfach nicht die richtigen Worte finden um dir zu sagen wie dankbar wir dir sind😊 ich hoffe das wir dir nicht zu nahe treten mit dieser Nachricht aber wir wollten einfach versuchen unsere Dankbarkeit dir zu beschreiben, was uns nie gelingen wird da es dafür wirklich keine Worte gibt! Ist es möglich von dir eine Adresse zu bekommen wo wir dir eine kleine Aufmerksamkeit hinschicken können? Uns ist es bewusst das du nicht brauchst und nichts willst, aber wir wollen es😂 Unendlichen Dank für alles 🙏🙏🙏🙏🙏🙏🙏🙏🙏

Liebe Yasmin, wie geht's Ihnen? In Zypern ist das Wetter bestimmt sehr viel angenehmer als hier. Ich wollte Ihnen nur mitteilen, dass die schwangerschaft bisher sehr gut verläuft und in weniger als 2 Monate ist es endlich soweit, dass ich ihn halten kann. Wir freuen uns sehr darauf und ich halte Sie auf dem Laufenden. Hier noch das letzte Ultraschall-Bild. Ganz liebe Grüße, Madina 😊😘

Guten Morgen Jasmin Es ist so schön und wir sind so glücklich 🥰 wir sind zu viert Lena 1950 Gramm und Lorenz 2050 Gramm sind da. 09.01.2019 19 Uhr Es geht uns gut

Liebe Frau Pade! Der Bluttest war positiv, auch der Schwangerschaftstest! Ich habe Ihre Quote nicht gebrochen😊Wir sind sehr glücklich, dürfen uns aber nicht zu viel /früh freuen, da in den nächsten Wochen ja noch ein Abgang möglich ist... Wir hoffen und wünschen uns, dass die Schwangerschaft so bleibt und bedanken uns bei Herrn Dr Armağan Ulubaş und Ihnen, wie auch dem kompletten Team recht herzlich und voller Dankbarkeit

Hallo Frau Pade, wie geht es Ihnen. Heute morgen hatte ich eine Blutabnahme bei der Frauenärztin und sie hat bestätigt, dass eine Schwangerschaft vorliegt. 😊 Liebe Grüße und vielen Dank für alles

Liebe Jasmin! Habe gestern positiv getestet und heute hat der Arzt schon eine fruchthöhle (erbsengroß) gesehen!! I'm over the moon! Über glücklich! Bitte richten sie dem Arzt auch besten dank von mir aus!!

Hallo Yasmin, ich hoffe es geht dir gut 😊 Wollte dir Bescheid sagen, wir waren heute beim Arzt und die Schwangerschaft ist jetzt bestätigt. Laut Ärztin ist Sie 5plus2 und es ist ein Kind. Die haben uns heute auch gleich den Mutterpass gegeben. Ich weiß garnicht wie ich dir Danken soll, vielen Dank für alles und ich werde mich auf jeden Fall bei dir melden. 1000000000 Dank nochmal für deine Hilfe und dafür das du immer da warst ! 🙏🙏🙏🙏🙏🙏 A. und V. S., Deutschland

Hallo Jasmin 😍 wir waren gerade beim Arzt. Es sieht gut 😊 aus es haben sich zwei eingenistet. Es haben sich zwei große Fruchtblasen gebildet. Am 05.07 haben wir denn nächsten Termin. Wir können es gar nicht glauben was wir gerade gesehen haben Liebe Grüße an euch Alle ❤ C. und M. M.D. aus Deutschland

Dear Sherry, Good Day and I hope this email will find you in best of health. I am pleased to inform you that we have been blessed with a baby boy. He was born yesterday weighing almost 8.3 lbs. He has stolen all our hearts and is perfect in every way. We would like to thank you, the doctor and everyone at Eurocare IVF for their guidance, support and helping us complete our family. It was indeed a long journey but me and my wife could not be happier. Thankyou once again. Kind Regards, AB & Family.

We are from uk and we have been trying to conceive for last 14 years had previous ivf with no success so after a bit of research we decided to give eurocare a try and I must say right from very first phone call with Maha issawi till the transfer day we had an amazing experience we can't fault their professionalism and dedication towards their customers I was always informed about every step of our treatment always been debriefed by maha or Lyndsy after each appointment I cud start my medication here in uk before travelling to Cyprus for egg collection and embryo transfer which saved loads of time hassle and money Once we traveled to Cyprus and went eurocare they were so friendly so helpful everything seemed easy and whole process went smoothly now I m 8week pregnant with twins although I still can't believe my luck and eurocare staff,s hard works I wud like to recommend them to everyone wanting to have a child to get in touch with Lyndsy she's amazing and all staff is amazing and helpful Thank you eurocare for making my dream come true

I had an amazing experience with eurocareivf centre. All of the staff was amazing and very helpful, They explanined us everything at any time and we felt secure and positive.

Everything was good organized and prepared .My contact person Sherry Selengül was more than helpful She's caring and sweet .Everyone did their best to make us comfortable first time IVF Was successful - I'm pregnant now five weeks 🙂 I want to thank everyone in the clinic specilly the doctor& sherry thank you

Very nice!Lyndsay was very helpful

Very good clinic friendly good service

All very good plus chauffeur star 🙂

Everything was good organised and prepared. My contact person was really friendly and helpful. Thank you very much!

Overall very good experience. I think it would be a good idea if there was a country contact, someone who has gone through the experience.

My husband and I have been through several fertility treatments and when we ultimately decided to try embryo donation IVF, EuroCare IVF was our first choice. The staff, particularly Sherry, was kind and helpful, answering our emails promptly and supplying us with all the information we needed for our treatment. We arrived in Cyprus and were well taken care of. Everything went smoothly with the treatment and I am currently 7 weeks pregnant with twins! Thank you, Sherry and EuroCare IVF!

Sehr nettes Personal. Ich habe mich sher whal gefühlt. Es wurde alles exact und zuverlassig erklart. Sehr zutrieden mit dem euroCARE Team.

When we first contacted Eurocare IVF we were a bit unsure as you hear many horror stories and we just didn't want to make a mistake. Talking to Lyndsay all our fears were set at rest, she really is that good as she followed us closely through all aspects of the treatment. The rest of the staff are also friendly and delightful and would highly recommend this place to do your treatment. We are 3 months pregnant now and with fingers crossed all will go well to cap off a nice time with these people.

Extremely friendly + kind staff make you feel very comfortable, very clean. Would reccomend to anyone. Thanks. p.s. Lyndsay is amazing. 10/10 🙂

Weder an der Behandlung selbst noch an Ihrer Organisation oder Freundlichkeit ist irgendetwas auszusetzen. Im Gegenteil: Es war alles perfekt! Ihnen und Ihrem gesamten Team, den Schwestern, der Anästhesistin und natürlich dem Arzt ein herzliches Danke schön für Ihre Geduld und Nachsicht mit mir. Ich werde Ihre Klinik auf jedenfall weiterempfehen.

I have felt very welcome, looked after and clear on every step of the way and this is down to all of the staff especially Lyndsay and my Doctor. Glad I had come here and the reccomendation was a good one.

By chance we have got the required Information about the Euro Care IVF & we start contacting & the best luck we got the Best Angel LYNDSAY CAMERON the pretty Lady who is coordinating the foreign patients the when we reached the Center the first impression was the smile & the tenderness you can see all the time & the Lovely Lyndsay who is preparing every thing to the best level to make the patient in the best level of relax Dr. Armagan is also you feel all the time that you are dealing with friend we had the best best care by everybody Doctor , Coordinator , Crew the clinic in highly recommended to everybody have similar case the cost was my last interest but even so it was fair Today 24th Jan 2017 we have got our two candles who light our life thank you Dr. Armagan Thank you Lyndsay for all care & brilliant efforts you have spent to make our life More happy

My experience of the clinic was brilliant. Lyndsay, my main contact, was fantastic at telling me exactly what I needed to know which helped me greatly. Every concern or question I had she answered nearly the same day- in fact- if I didn't know she was working in Cyprus, I'd have thought she was here, in London. Overall, Lyndsay was amazing at her job and helped me more than I was expecting. It was a scary process as I was about to under go a treatment in a country foreign to me. Despite this, I felt safe and reassured at every moment. I am pleased to confirm that I am 10 weeks pregnant. I still contact Lyndsay if I have any questions. My IVF treatment was astounding because of the customer service and I wouldn't have done it anywhere else.

It was a great pleasure for us to be at North Cyprus. People at the clinic were very friendly and we have had a good time during the entire process. I want to thank specially the coordinator Sherry for doing the best she could even after we finished the procedure. After more than a decade of efforts in different clinics including Kosovo, Macedonia and Turkey, we finally had a successful IVF and we are happy to announce the birth of our precious baby girl - that happened this November. Me and my wife, and our families can't be more happy and we really thank you for making our dream come true.

I had PGD treatment at Eurocare IVF. We came across after research on web, and then contacted with Lyndsay Cameron. She was so easy to communicate and available for any answer I had, and I had a lot. After contacting a few clinics, we went for this clinic as the price was Ok, the availability with the queries and the help with the arrangement for the hotels, etc. When arrived in Cyprus, the team and Lyndsay again made it very easy being in a foreign place, and supported on every step of the procedures. It was my first procedure and we decided to transfer only one embryo (did not want twins) and luckily was successful on the first try. I definitely would recommend them.

I'm 46 years old and I have been I've done both 2 to 3IVF treatment before and they where unsuccessful.I've been trying to get pregnant more than 25 years now and I went on line and come across Euro Care IVF Center. I make contact with Lindsey and I flew to North Cyprus to do my treatment afterwards a nerve wrecking because I was so scared and it was something that I was desperately wanted to have a family but the support of the team and the doctor I am positive nine weeks pregnant today. I must say to be honest to support and they monitoring 24 seven for over one years of conversation and monitoring my body was excellent within the clinic . I took a year because I am a worried person but you cannot ask for a better supportive team if you are anything like me.

I HAD IVF TWICE. THE FIRST TIME IT WAS NOT SUCCESSFUL BUT THE SECOND EVERYTHING WENT WELL AND NOW I AM 3 MONTHS PREGNANT.

I am from the UK and I must say we were very nervous about the whole process especially in a foreign place. After a lot of research I immediately made my decision to go with euroCARE after speaking to lyndsay. She was the most friendly and approachable rep I had contacted and she assured me of the Dr and how successful he was. Dr Armaga was so friendly and made us feel at ease the moment we got there. Lyndsay was there every step of the way. Everything was explained clearly and the staff and nurses were wonderful. The hospital itself was so clean and exactly how you would expect a good hospital to be. I am so glad I chose euroCARE I would recommended it to everyone. I am now pregnant after transferring just one embryo so it can happen!

The whole experience was excellent from beginning to end, I was extremely anxious and scared about it all but it couldn't have been a nicer, friendlier and relaxing.. I wouldn't hesitate to recommend to my friends in the same situation, which I already have done..

le traitement de préparation est facile à suivre et sans effet secondaire. la banque des donneurs et vaste car j 'avais des exigences très spécifiques : le fait que chypre soit un pôle Universitaire international est très bénéfique. venant d Afrique, les connexions aériennes à Istambul sont aisées pour Chypre. l accueil à l arrivée est personnalisée, l 'hébergement de grande qualité; étant moi même médecin, j 'ai apprécié le professionnalisme du centre, ainsi que les règles strictes d 'hygiène et de confidentialité. le protocole est clair, les explications et précautions à prendre après le transfert sont très motivantes. ma conclusion est la suivante: le succès est lié à la qualité des procédures et à l absence de contre indication médicale au départ, avec une bonne hygiène de vie( sport, diététique, et mental ) il m a suffit d 'une seule tentative, pour connaitre le succès. Mon gynécologue , qui jusque alors orientait ses patientes en Espagne ou Ukraine, est convaincu dorénavant que Chypre est une destination idéale pour la centrafrique et les ouest africains. Je souhaite à tous de connaitre comme moi, le bonheur de la réussite immédiate d 'une PMA, et précise qu 'il n 'y a pas de limite d 'âge.
Staff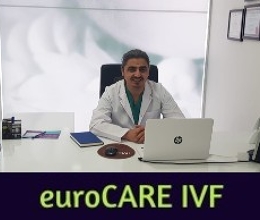 DR. Yücel İNAN
Obstetrician, Gynecologist and IVF Specialist
---
Dr. Yücel İnan is the leading IVF lead doctor within the euroCARE IVF heroes team, who will guide and support your IVF cycle with internationally recognized expertise. Dr. Yücel İnan has more than 15 years of experience in practicing medicine and has many educational achievements visible through his numerous publications and success stories. He graduated from Çukurova University Faculty of Medicine and completed his specialization at the Yeditepe University for Gynecology and Obstetrics Clinic in Istanbul.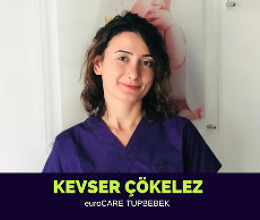 Kevser Çokelez
Embryologist / Laboratory Specialist
---
Born in 1988 in Zonguldak. KEVSER graduated from Erciyes University Faculty of Science and Letters Department of Biology. In 2011, after working in an embryology and andrology laboratory for 5 years in a private center in Istanbul, KEVSER worked as a laboratory responsible in Cyprus. In 2014, the publication ım Frequency of embryo multinucleation impact was published. KEVSER participated in events such as International Experned Congress, Congress of Embryology Congress, Cryopreservation Course-Cryotech.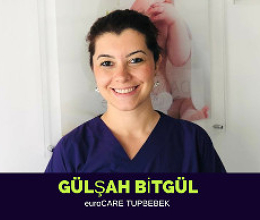 Gulsah Bitgul
Embryologist
---
Born in 1985 in Izmir, GÜLŞAH received her Bachelor of Science degree in Biology from Ege University and a Master's Degree in Histology-Embryology Department from Dokuz Eylul University Institute of Health Sciences. GÜLŞAH managed the laboratory staff in Ankara and started working in an embryology and andrology laboratory in a special IVF center in Izmir in 2013. In 2017, she was in charge of embryology laboratory in a private hospital in Kosovo. GÜLŞAH is a member of TSRM Reproductive Health and Clinical Embryology Association.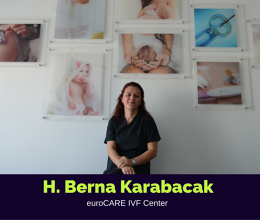 Berna Karabacak
IVF Coordinator
---
After graduating from the School of Nursing at 19 Mayıs University, she worked in various governmental institutions for about 15 years. In the past 10 years, ahe has been the coordinator of respected IVF centers in Istanbul/Turkey. Her ultimate goal is the successful completion of your treatment at euroCare IVF Center.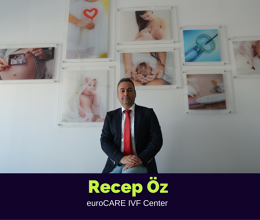 Recep Öz
Clinical Director
---
At the most prominent fertility clinic in Cyprus, expert IVF specialists are available to provide you with the highest-quality fertility care for the journey ahead. Clinical Director, Recep, holds more than 10 years experience in fertility and assisted reproduction. He wholeheartedly understands that fertility treatment is an intensive process that requires sensitivity and an understanding of the physical and emotional aspects of every patient's journey.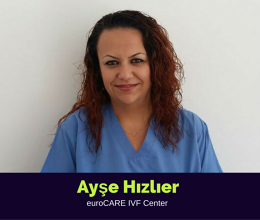 Ayşe Hızlıer
IVF Nurse
---
As euroCARE's IVF nurse Coordinator, Ayse makes sure that each patient receives all the information and treatment they need to have a smooth and pleasant experience in Cyprus.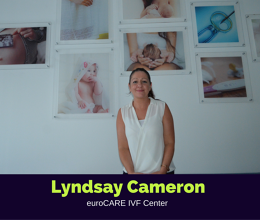 Lyndsay Cameron
International Patient Coordinator
---
International Patient Coordinator, Lyndsay Cameron, was born in 1978 in Glasgow, Scotland. She resides in Lapta, Kyrenia – North Cyprus after relocating from Scotland in February 2012. Since living here she has gained extensive training and experience and is now pleased to be part of the euroCARE IVF team. Lyndsay assists all patients traveling from the UK.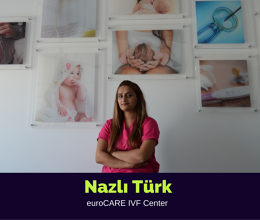 Nazlı Türk
IVF Nurse
---
Nazli will guide you every step of the IVF treatment process. With extensive IVF experience, she will help to make your journey to parenthood as perfect as can be.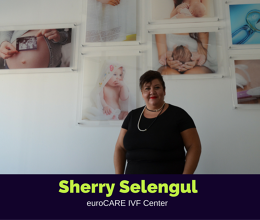 Sherry Selengul
International Patient Coordinator
---
Sherry Selengul was born in London in 1970 and has been living in North Cyprus Kyrenia for 13 years. She is committed to helping patients have a successful journey to parenthood at euroCARE IVF.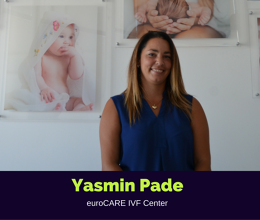 Jasmin Pade
German Patient Coordinator
---
Yasmin, our German Patient Coordinator, moved to Cyprus in 2003. After completing her degree in Tourism Management, she specialized in Health Tourism. She is responsible for our German speaking patients and will answer all questions regarding our IVF procedures competently and concisely.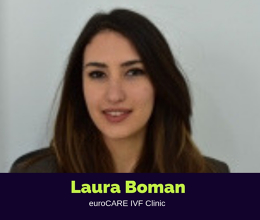 Laura Boman
French Patient Coordinator
---
Laura is responsible for our French speaking patients works closely with each patient to determine the best course of action for IVF in Cyprus.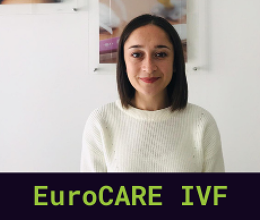 Ekin Yuce
Turkish Patient Coordinator
---
Ekin provides guidance through the IVF process for all our Turkish patients, answering questions and consulting with them about everything — from initial contact to egg retrieval to embryo transfer, and more.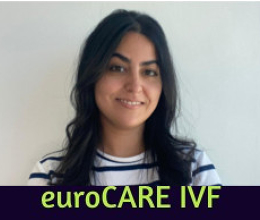 Ranya Chbouki
Arabic / French Patient Coordinator
---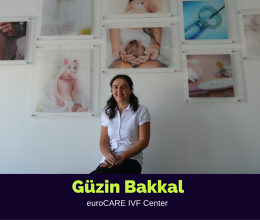 Güzin Bakkal
Public Relations
---
Güzin utilizes all forms of media and communication to build, maintain and manage the reputation of euroCARE IVF clients.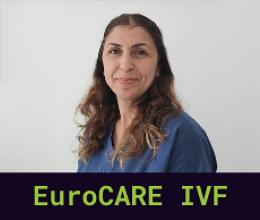 Bircan İnci
Personal Assistant
---
Being aware of the importance of your health and treatment safety, Bircan does her best to make you feel comfortable and at home while also providing office support to the clinic's team.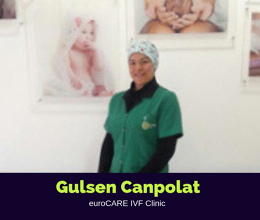 Gulsen Canpolat
Employee
---
GÜLŞEN helps attend to the daily office routine and cleaning of the clinic.